The All-Natural 34-JJ
Queen of Boobs!
Kerry Marie » Hitchhiker
Unable to play the trailer? Try one of these:
MP4 480X360
A dirty-minded sleazeball is cruising around Miami looking for hookers. He mistakenly thinks a hitchhiking Kerry is a working girl. He still offers to give her a ride even when she informs him that she is not a prostitute and is just trying to get to Scoreland to model for her website. (Don't ask why she has to hitchhike, you'll ruin the fantasy.) Then he recognizes her as Kerry Marie because he jacks off to her pictures in Voluptuous magazine. Small world, huh? Kerry gets into the backseat to "refresh" herself. "This is every Voluptuous reader's dream come true," the sleaze keeps repeating as he looks at Kerry stroking herself and getting the upholstery all creamy.
June 28th, 2019
12:46 mins
Rating
Download Options
Full Scene Download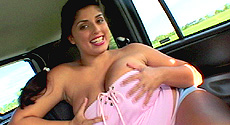 Five-minute Clips
More Kerry Marie Videos