The All-Natural 34-JJ
Queen of Boobs!
Kerry Marie » Convict Kerry
Kerry Marie has been set up by a bunch of bastards and now sits in jail. That blows big-time! Now she spends her time writing naughty, rude letters, cutting up SCORE and Voluptuous magazines to paste on her cell wall and masturbating her brains out. The clock moves slowly and release seems a long time away. She must find things to do or she'll go stir crazy. This mini-movie exposes and dramatizes the shocking and sordid conditions of life in a women's prison. Sorry, they don't rent cells to men so don't bother trying to make a reservation.
January 11th, 2019
20:59 mins
Rating
Download Options
Full Scene Download
Five-minute Clips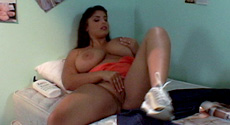 More Kerry Marie Videos