The All-Natural 34-JJ
Queen of Boobs!
Kerry Marie » Blue Couch
This is a true digital video because Kerry uses her dainty fingers instead of toys to massage her incredibly full knockers and slick, pink vagina. It was Kerry's intent after all to make us lose our man muck before the video ends. That's quite easy for her to do. All she has to do is play with her tits and stare at the hovering camera while we fantasize about fucking her with a rock-hard dick. She knows how we think. In the American video series, she's quite the little chatterbox, entertaining us with a stream of sexy talk in her own horny way.
April 27th, 2018
7:30 mins
Rating
Download Options
Full Scene Download
Five-minute Clips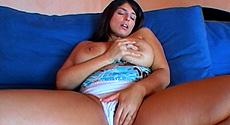 More Kerry Marie Videos