The All-Natural 34-JJ
Queen of Boobs!
Kerry Marie » On Location Key Largo - Group Grope
In this scene from the movie On Location Key Largo, shot in the Florida Keys in the spring of 2001, Kerry, Lorna, Chloe and Chaz cavort and romp in the pool of their beach-front house. In the opener of this scene, Lorna and Kerry can't decide what bikini to wear. Just watching them try on bikinis is highly erotic. Then all four girls meet in the pool to frolic. There is fantastic underwater photography of these ultra-busty babes, something rarely seen in busty movies. And then Chloe is treated to something very special by the three girls in another highly erotic moment in one of the most talked about moments.
January 12th, 2018
19:41 mins
Rating
Download Options
Full Scene Download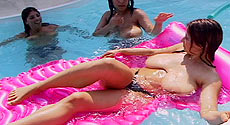 Five-minute Clips
More Kerry Marie Videos